FOR SALE 1991 Celica GT4 RC All Track AWD
Carlos Saintz 3SGTE Turbo WRC base Model
This is one of our stock performance japan used car for export, Toyota Celica All Track GT4 RC Carlos Saintz Limited production model used car.
Water Cooled Intercooler, 3SGTE, Rally Competition, 1 of 5,000Units available in the world.
We export Toyota Celica ST185 ST205 TA22 TA27 All track 3SGTE 2TG you can import CELICA from japan at MONKY'S INC.
STOCK NO:ST185HRC-007
Picture gallery of 15years old vehicles which we sold to canada since 2002
Sold Vehicles Picture Sample Gallery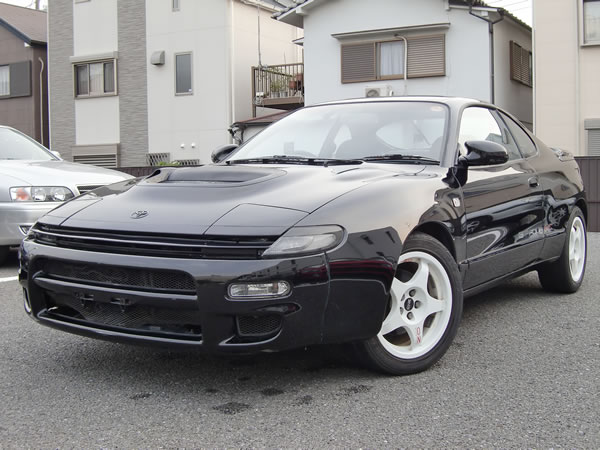 FOR SALE 1991 CELICA GT4 | GT-FOUR RC All track
3SGTE Carlos Saintz WRC base Model


[][][] TEST DRIVING VIDEO [][][]


Stay your mouth pointer on each thumbnail to switching the image files.
Mileage ; Mileage Low 89,000KM around 55,630Mile Color; Black
P/S, P/W, P/M, AAC, 5spd trans

Original OZ racing rims, Nardhi Classic leather steering rims
HKS Turbo timer, Original RC model interior, 260km/h full scale speed meter.


Famous Carlos Saintz WRC championship memorial production model, one of 5,000units.

All vehicles (Base price terms only) in our stock inventory will be "Cleaned up", and "Inspected" in our factory,
then supplied to custmer at "Beautiful Condiiton". Vehicle Supply Condition detail is
available at "SOLD CARS" page.

VEHICLE SUPPLY CONDITION SAMPLES HERE:
SAMPLE : 1991 Celica GT4 RC : Stock No ST185HRC-003
SAMPLE : 1991 Celica GT4 RC : Stock No ST185HRC-005

BASE FOB price terms is "Fully Reconditioned", Brake, rubber parts, all dents, paint job finished
LESS FOB price terms is "As is condition", available only Inspection report(vehicle conditions).If you would

SOLD
We can find and supply ST185 Celica GT4 RC for you,
For more info Please contact by
"Auction Buying Enquiry Form"
MONKY'S INC CANADA CAR DIVISION